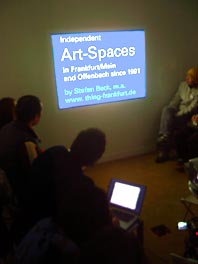 Independent art spaces from Frankfurt/Main. I was able to present 28 examples from the last 10 years.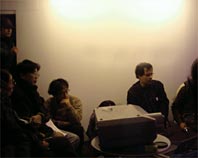 Questions: Who's the boss? How many staff? Commercial or non-commercial? Does it really matter?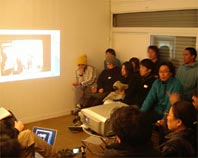 Among the audience many local artists who either run their own spaces or had experience with exchange projects from abroad.

I always wanted to get in contact with art people in Tokyo, preferrably with those who did similiar things like me.

Independend art spaces might be a very difficult thing to find considering horrendous floor rents in Tokyo and the general hostility against something "independend" or "on your own", not connected to something established.

In 1996 I run into P-House, a club, café, gallery in Daikanyamacho, a kind of collective, organizing exhibitions, lectures and other events. A friend then told me they were considered "punks" by not fitting into a normal gallery scheme. Unfortunately this place doesn't exist anymore.

In 2001 I heard about a group called CommandN situated in Akihabara, but I haven't been able to get in contact with them since.
Then I found out about FADs artspace via a friend who brought a conference leaflet about artist-run-spaces from Honkong. FADs is a tiny space (a former shop) located in the west of Tokyo, Kunitachi, operated by a group of 3-4 people, artists themselves.
I sent an email proposing the idea of lecturing about art spaces from Frankfurt, and wonderfully they accepted it.

There would be much to tell about my experience at FADs, but two things struck me: although FADs was not a real company, really an artist-run-space, the people I dealt with were always referring to another one, not present at this time, as "our boss, Mr. Kaihatsu". In a similar way, people from the audience frequently asked at the Frankfurt examples: "how many staff?" - It must have been strange to them to learn that none of the Frankfurt artspaces had any staff. Is this the relict of the so much organized Japanese society, that even off-projects need "bosses" and "staff" to function properly?


Lecture piece 8min [( MPEG) ( RealVideo)]


Lecture poster [( gif)]

Kunitachi area map