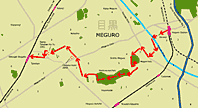 See big map for the whole course in the center of Tokyo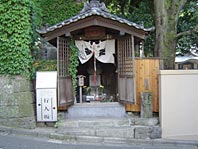 Entrance of Dai En Ji near Meguro West Exit.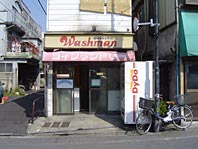 Coin laundry "Washman" near Meguro Fudo temple.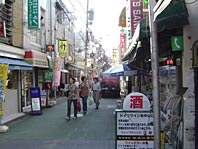 Shopping street in Gakugei Daigaku
This walking course is more in the center of Tokyo.
Starting at Meguro Station leading me to Gakugei Daigaku.
No time to loose at Meguro Station. An incredibly dull area. Not even an Excelsior Coffee Shop.
On the slopes towards the Meguro River I found a nice small temple, Dai En Ji.
Crossing the river, passing through some narrow streets, on the other side up the hill. Here's Meguro Fudo (Ryusenji). A big old temple. In Edo time this compund was already outside the city borders. Nowadays it's totally sourrounded by the city. Still, with the big trees it gives some impression of solitude.
In front of the entrance a fancy coin laundry. Another one for my collection.
Enter Rinshi No Mori Park. A little bit of preserved nature. Full of families with children. It's saturday afternoon. Found a lot of toilet houses. Why do Japanese go to a park? No toilets at home?
Through tight lanes towards Meguro Dori. Not far from here Classka Hotel, where I met Mariko and An-Kun last year. A sento right on the corner.
A little bit to the north, sharp to the right I encounter Takaban No Yu, a modern style sento, where I haven been in 2001.
Gakugei Daigaku is one of my favourite parts of Tokyo, narrow streets, small shops, lots of young cheerful people. There must be a school or university around.
I could have taken back the train with the Toyoko Line to Shibuya, instead I went a couple of stations south to Jiyugaoka. This is a far bigger town, nearly a subcenter. Huge department stores, very crowded. A city on itself.