Trudi Music
multi.trudi boosts and favours contemporary noise music and other experimental styles.
We do concerts as well from time to time.
Here are some current recordings from multi.trudi:
CD
Musik für Bankangestellte
(music for bankemployees) by Stefan Beck
CD, 1999, 5 Tracks, 60min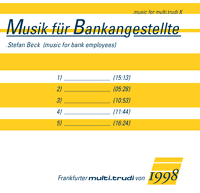 Prelisten [MP3 20k stream] » Track 2, » Track 4, » Track 5
Electronic live noise music. Generally produced with two turntables, specially configured mixing console and some basic effects. During the whole process of creation no sampler, no computer, no MIDI was used. The final result was recored direct to tape. No further editing has been employed. Every track is unique, unrepeatable and uncorrectable.

EUR 15,- + Freight, )))))))) Order now!
Sprech-Einsatz
by Augst & Beck
EP, Vinyl, 1997, 2 Tracks (a+b), 9min + 16min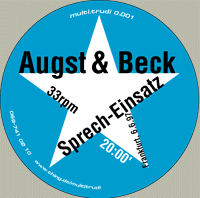 Listen [RealAudio, 28.8] Side A
Vocal based live noise music.
Reconstruction of a nightly street-parade (similiar to Berlin Love Parade) interrupted and clubbed down by Frankfurt police in 1997.
Track A is a more soundscape like version.
Track B stresses also on voices but underlayed by a persistent distorted techno-beat.

The recording has been done in two layers, live vocals and live noise and original sounds from the street (police cars etc...). Afterwards they have been mixed together in the studio.
Website: Augst & Beck
EUR 12,- + Freight )))))))) Order
Auto-Compressed
by Freundschaft
CD-R (single edition), 1998, 74min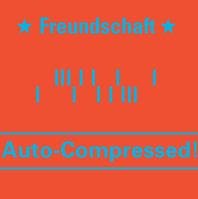 The best from Freundschaft, the hardcore industrial noise band from Frankfurt. Hardest of noise!
Very dense, compact and thrilling. Guaranteed to crash any speaker.
Notice: The content of each CD can vary due to the fact that they are single editions, each CD is individually burned.
Freundschaft archives every concert and session, so there is a large collection of Freundschaft sounds.

Freundschaft can be heard live every second sunday a month from 9 PM (local time) by RealAudio on RadioX
EUR 20,- + Freight
MO.S.O.M.cord
More sounds of multi.trudi by Stefan Beck
CD, 2000, 9 Tracks, 73min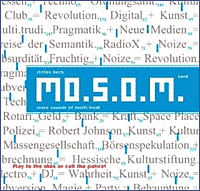 Prelisten: Track 2, Track 3, Track 4 , Track 6, Track 7
Noise music firmly grounded on identifiable beats. Recorded live direct to tape - without the use of samplers, computers or MIDI. No further editing applied.
Main material used in the process: commercial dance records as means of deconstruction of contemporary club music. The result is rather what has been made, but what has been listened to.

EUR 15,- + Freight, )))))))) Order now!
Prices include VAT and exclude freight!!!!
Online MP3
Other sources for trudi noise
© multi.trudi 2001 - 2005