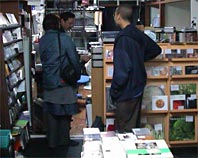 The space is tiny, but full with the most interesting stuff in noise you'll ever hear.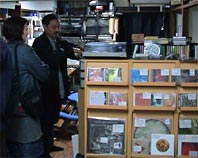 Mr. Tano is not only into selling records; he's a label owner, a publisher of a magazine and organizer of events.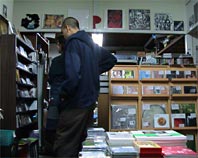 Very difficult what to take home. So many possiblities. I was lucky to get some recommendations by an expert.
Mr. Tano's shop, which is also his office and showroom, is dedicated to noise music only.

This would be surprising enough, but it's the location which is also very special. A non-descript residential area in Sendagaya, half-way between Shinjuku and Harajuku. > Map

There's no sign or whatsoever to indicate that there's a shop or business hidden in the building. You'll enter through a parking lot, a dark gangway, climp up a staircase, pass by along a kind of balcony, which opens to other apartments (or businesses?), and there you are, the last door.

You'll find a place by no more than 20 sqm, half of it used as office, the other part is the shop. Full of records, CDs, MDs, tapes, videos and DVDs, piled up to the ceiling. I spotted some well known names like Fylkingen from Stockholm, but the rest, all noise!, was completely unknown to me.

What I like about these small recordshops in Japan in general is, that they're not afraid of CD_Rs and other homemade stuff. You'll find some editions of 10s or 20s, very often carefully designed, labeled or painted by the artists, wrapped in stylish sleeves or handmade boxes, for shure some very singular products, not to be compared with that 'industrial' manufactured thing in the regular shops.

In Germany in contrast this would be hardly possible; go to a record-shop with your CD-R, and they will definitely call you a silly amateur. To be taken serious you'd be advised to have a label at least. Otherwise you might stick with the tape scene or other under-underground parties.