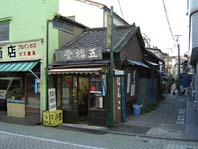 Small shop in Kita-Senju.
Old style living quarter with some apartment blocks in Kita Senju.
(Friday, 24tht October) As a nice walking course I started at Minami-Senju station (Hibiya Line) and went straight north.

I passed by the Minami-Senju shopping street with its arcades (sheltering consumers from sun and rain) and old fashioned shops. An area which is very much downtown Tokyo (shita machi). The Sumida river crossed after about 15min.

Enter Kita-Senju. There was a small street with lots of tiny houses (see top right), which led to Kita Senju station, bigger and busier than Frankfurt main station.

I went all along northwards till I came to the Arakawa river. From the top of the dyke I had a instructive view over the living chaos of this area. I followed the dyke till I thought it was the right part to step down into the narrow streets to look for Takara No Yu Sento. Which was unfortunately closed. But in the area was Kane No Yu and Daikoku Yu as well. The latter was worth a visit. I enjoyed the very hot water.