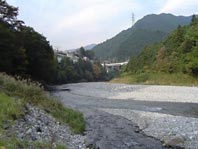 The valley of the Tama river, two hours from Shinjuku.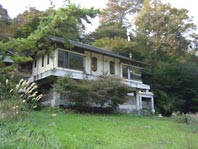 The bathhouse of Onsen Suiko En, overlooking the tama river.

On Friday, 31st October, I decided to make a journey to an onsen on the outer bounds of Tokyo, far in the west.

First I went to Shinjuku to get a ticket at the office, which proved to be unnecassary, since my destination was still listed on the big JR railway maps, Kawai (890 Yen). See [map]

From Shinjuku I took a Chuo Rapid for Tachigawa, 40min, where I changed for Ome Line. After Tachigawa the city finally disoluted. In Ome I had to change for a local, which followed the slopes of the Tama river, a considerable whitewater here.

I finally ended up in Kawai, after another 40min. A very small station, some vending machines around, no ticket gate. No obvious signs for the onsen, but I found a wooden board which depicted the surroundings. It was just five minutes from the station, within a marvelous japanese garden style hotel compund. I paid 1000 yen at the lobby and was allowed to enter the bathhouse. There were just a few customers, so I nearly had the basin with the spectacular view on the Tama for me alone.