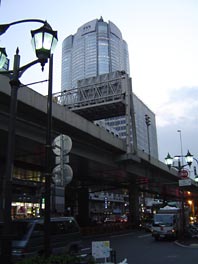 Mori Tower, the landmark of Roppongi Hills, overlooking Metropolitan Expressway No. 3, Roppongi. [map]

Roppongi Hills, a 2.7 billion $ investment project by real estate tycoon Minoru Mori, is the latest "highlight" in Tokyo urban development. Nearly 28 acres of land, with offices, shopping malls and luxury living apartments, all topped by 54 floor Mori tower, which also houses the new Mori Art Museum on its 52 and 53 floors.

The idea is to shortcut commuting time by creating an integrated working-living ensemble which satisfies all needs of (wealthy) urbanites.

To demonstrate the wealth and power of the investor nifty art in the "public" space is heavily employed featuring more than a dozen japanese artists. Everything's so pretty and sweet....