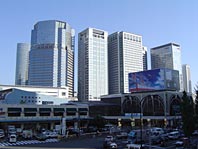 Highrises behind Shinagawa station. Seems to be a very busy district.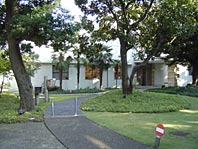 The entrance of Hara Art Museum. No pictures allowed inside.

(Wednesday, 29tht October) My art and onsen course. From Shinagawa station to Nishi Shinagawa Onsen.

Skip Shinagawa station. There's nothing to see but some big office and hotel buildings.

Enter an incredibly posh neighbourhood. Impressive japanese style villas behind high walls and modernist blocks with triple garages.

Hara Art Museum, the cult place of modern art in Tokyo, is located in this area. It was wealthy Hara family's home in former times. Bauhaus style within a japanese garden.

Exhibition inside a failure. Japanese foreign exchange program 10 yeary jubilee. Had a stylish cup of tea in the wonderful garden.

From that on a lot of difficulties. Had to cross Meguro river, Yamanote and Shinkasen tracks, nearly lost my way. Through a very dense neighbourhood into Nishi Shinagawa. Where is this damn 2-18-2? My map is too small. Finally success. Stood in front of a building which I decipher as "onsen".

The mens' bath is on the top floor. Brownish not too hot water. A nice outside tub where I could see the Shinkansens racing by while soaking in. What a view.