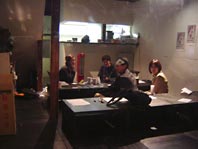 Sunday afternoon with director Emiko Kato, guest artist Noemi, a student, and Mr. Takaaki Soga, director of another local gallery.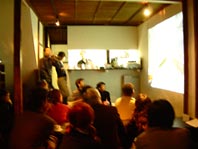 Videopresentation of "Fly Cafe" at Rice plus, on Sat., Nov. 1st.
On my search for alternative art spaces in Tokyo I came across Rice+, a private organization based in Hikifune, which features a gallery space in an old rice shop and an artist in residence program for foreign arists.

I was happy to present them my material of artist spaces in Frankfurt and to learn of art activities in their neighbourhood.

The next saturday there was a presentation of artist Tanishi K, "Fly Cafe" [flyer], a very funny exhibition prentending the existence of a fake Kyojima airport and a video by Tanishi K, showing her dressed as a fly attendand of Kyojima Airlines serving drinks to customers of the Tokyo subway.

The following pictures show excerpts from her video: