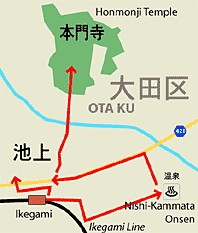 Ikegami, in the south of Tokyo, a lovely suburb, home to the famous Honmonji temple.

I have been to Ikegami, located in southern Tokyo (Ota Ku), on the occaison of Oeshiki the annual big celebration of the Nichiren sect at their main temple Honmonji on October 12th. I've also been to an onsen in this area.

How to get there: on Yamanote line go for Gotanda, change here to Tokyu Ikegami line. Ikegami is station twelve from there.