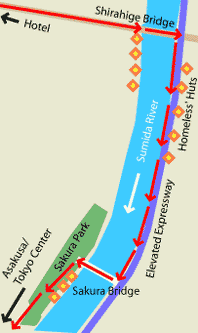 Sumida River north of Asakusa. On the left river bank a giant expressway leaving Tokyo for the north.
On my first day in Tokyo I made a walk eastwards from my hotel in Nihontsutsumi towards the Sumida Gawa. This area is a little bit north of Asakusa and south of Minami-Senju.
When I encountered the river banks I was very astonished to find them lined with boxes and shelters by homeless people. There were at least over a hundred along a distance of maybe a kilometer.
Though sad the settlements had some genuine aesthetic qualities. Mini-architecture by non-architects.
Video of my walk