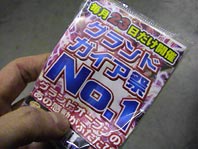 What am I sold here? "Grand Gaia"? Mother Earth.... Karaoke or Pachinko?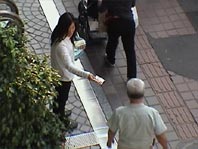 One of the frequent vendors, here next to Kita Senju station.

Paper towels enclosed in a small bag together with advertising are a very popular means of getting people's attention.

Distributors for these free gifts show up at every populous spot, in front of train stations, department stores, shopping streets, sometimes there are up to six of them around one single place.
Topics placed on the ads reach from karaoke, pachinko, real estate to restaurants and other business proposals, but even dentists and pet clinques are hard to avoid.

I think the pieces are very popular, for there's no paper on public restrooms, - and in hot and humid summer people can dab the sweat from their faces.

Graphics are always gay and straightforward.